What does it take for a modern office building to attract high tech, global tenants?
Smith + Andersen's Intelligent Integrated Systems Group was engaged as the integration consultant to design an integrated building platform for one of Vancouver's upcoming office buildings. Learn how a suite of smart capable systems transformed this office building into one of the most integrated office buildings in the city.
Centrally located in the downtown core, 402 Dunsmuir is a nine-storey, mixed-use office building that aims to support Vancouver's growing technology presence. From the outside, this office building may seem like many others: retail spaces, amenity spaces, and targeting LEED® certification (LEED Gold Core & Shell, to be exact). So how does 402 Dunsmuir attract an anchor tenant like Amazon? For that, you have to take a closer look inside...
Image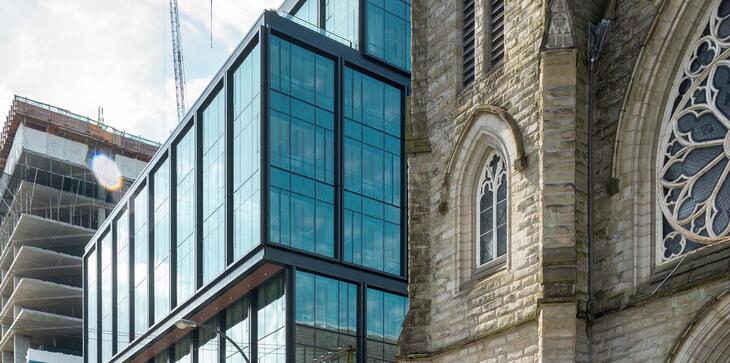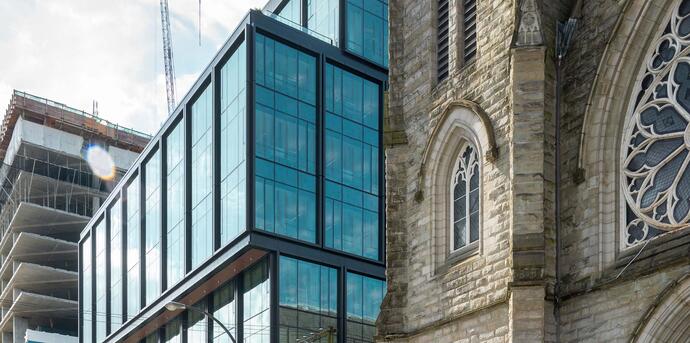 With Vancouver's reputation as a burgeoning technology hub, tech firms flock to the city's downtown core seeking office spaces that offer increasingly integrated technology. In order to meet the needs of these high-tech tenants, Oxford Properties outlined a clear need for a cost-effective, secure, and integrated building solution that prioritizes not only operations and energy efficiency, but also occupant comfort. Smith + Andersen's Intelligent Integrated Systems (IIS) team was engaged as the integration consultant to take this challenge and transform it into an opportunity to raise the bar for Vancouver office buildings.
Leveraging industry-leading technology solutions, Smith + Andersen worked closely with Oxford's technical and operational teams to design a truly integrated building platform. The IIS Group selected appropriate network architecture for individual systems (such as lighting control, access control, metering, and wireless access points) by applying a decision framework developed inhouse by the Smith + Andersen IIS team. This framework clearly outlines the level of network penetration across multiple systems to the base building – from simple relays to IP and Power over Ethernet interconnections. Applying each system to the most effective level of the framework (rather than assigning one, broad level to every system, creating redundancies and unnecessary costs) allowed Smith + Andersen to design an integrated building platform that addresses each individual system's needs in a cost-effective and secure manner. Additionally, close coordination with existing infrastructure was required to extend systems and integrate with the existing building. This overcame a design constraint that affected the systems architecture, as well as met Oxford's integration needs for a smart capable building.
When Amazon moves into their space next year, 402 Dunsmuir's smart capable systems will provide the opportunity to enhance user-experiences through technology systems that improve quality-of-life. For example, with the swipe of a secure access card, occupants will be granted access to the parking garage, can summon an elevator to their assigned floor, and ultimately arrive at a workspace that is lit and air-conditioned to the needs of their work area. The integrated design includes a single-user interface for normal day-to-day operations, as well as monitoring and control for incident operations. The coordination with existing infrastructure allows for the development of the integration requirements on a platform that is familiar to the current building management staff. The 402 Dunsmuir integrated building platform is more than your average, present-day intelligent system. With a suite of smart capable systems, 402 Dunsmuir is well-equipped to leverage modern technology platforms – earning its reputation as one of the most integrated office buildings in Vancouver.