There are two central design trends currently on the rise – creating a healthier and more welcoming environment, and creating a more secure environment.
Upon first consideration, these two concepts appear mutually exclusive. Why? Because we often think of a secure building as something that is locked down. Protected, but not necessarily welcoming.
In reality, security is part of a larger strategy that is about much more than just access control. It's about the continuous improvement of the physical environment. Security strategies require the formulation of a plan which is tailored to the function of each building, and how the needs of each end-user vary. It's about effective integration between systems – creating less uncertainty, less hesitation, and more measurable results.

While our team focuses on electronic security, truly secure design is a collaborative, team effort. From how the physical environment is laid out, to which systems are connected, to cyber security – it all plays a part.
Image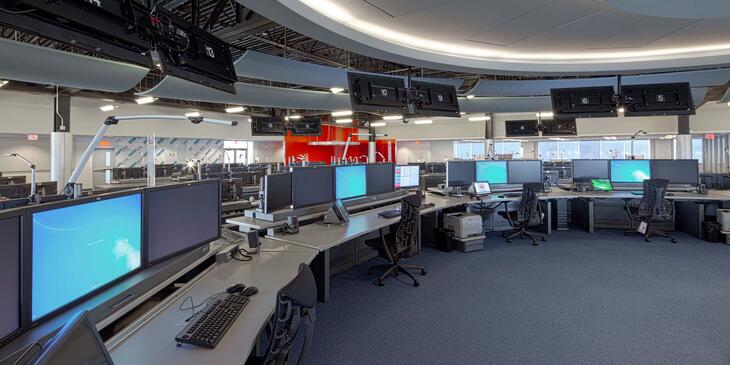 Q&A with Smith + Andersen team members
What are some of the innovations to security systems that are making the biggest difference in the lives of tenants and building operators today?
Obhishek: Video surveillance technology has really come a long way (and has become much less expensive). Increased resolution, improved view angles, reduced glare, and thermal imaging are all typical features now. Alternate technology readers are also more typical, enabling card access through an app on your phone (rather than requiring an actual card). This is an attractive feature for many commercial office building tenants, as it reduces the cost of purchasing, losing, and replacing physical access cards.
Mohammad: Interoperability between video surveillance, access control, and intrusion detection is designed to trigger an immediate response from the video recording system; if unauthorized access or an intrusion event occurs, the closest camera will automatically zoom in and record in high resolution. The video recording system will also recognize and remove unnecessary footage, reducing the amount of requisite storage space. By contrast, any "significant event" footage is automatically made redundant – ensuring that vital information is not lost.

What about high-security buildings, such as health care facilities? What are some of the trends you see emerging in security systems design for these buildings?
Mohammad: The health care industry seems to be miles ahead when it comes to embracing and integrating technology, and security design is no exception. In continuous care facilities, for example, the role new technology plays in resident engagement and wellness is unequivocally positive, and allows for a security system which is much more personal. Caregivers and staff already use mobile devices which can now be leveraged for any number of security alerts, such as client movements and needs, building emergency alarms, and potential security threats.

How can the integration of security systems within a building assist staff?
Vaughn: Integration of systems is a strategy that the public sector has embraced in recent years, largely because it has such a measurable impact on daily operations. On transportation projects, the integration of security and communications with systems such as lighting and WiFi can enable necessary connectivity for the modern traveler. In health care facilities, a Real Time Locating System (RTLS) can significantly increase the level of personal security, solving risks which either have traditionally been very challenging for staff to control, or are so critical that they require extra measures (such as protection against infant abduction).

How has the integration of security systems been embraced in commercial buildings?
Obhishek: Regardless of the building type, clients are asking for systems integration – both between the various building systems, and within the security design itself. Over time, we're getting more and more requests for this integration between systems – where access control, CCTV, building automation, and lighting are all connected. These requests are largely driven by ease of use. From the building operator's perspective, all of these systems can be monitored on one IP network; the entire building can be monitored using just one screen.

What is the most critical factor when working to define client requirements in a new facility?
Obhishek: The security industry is evolving rapidly and, as a result, the most important piece is introducing the client to the numerous possibilities that could work for their building. Pre-existing budgets, equipment or standard practices may be based on needs from two or three years ago.
Vaughn: It's important to understand that there isn't one single security solution that will work for everyone. The type of client, the location, the use, and any possible security threats to that particular business – all of these pieces must be fully understood individually and collectively in order to devise the best possible system. During the design phase, we start to gain a big picture understanding of what the client needs now, as well as what they might want in the future. It's our job to ensure this flexibility is built in – that the client knows what their system is capable of, as well as how it might be leveraged in the future.
Mohammad: It's interesting – on an airport project, security is one of the first consultants brought on board. That's because the security design affects every other piece of the project – inside and outside – and is a central factor in establishing a realistic project budget. Given the number of options available, health care (particularly mental health care) design is very similar. This same approach – with early input from security – should extend to all building types. Such design practices enable dynamic solutions for operational integration between the built environment and the electronic security environment.