The Illuminating Engineering Society celebrates creativity, originality, and professionalism with an annual presentation of Illumination Awards.
This year, the Smith + Andersen Toronto Lighting Team received the IES Illumination Section Award of Merit for Interior Lighting Design for their impressive work on Ingenium Collections & Conservation Centre.
This 387,500 square foot facility safeguards thousands of Canadian heritage artifacts. The museum and conservation space is home to both artifact preservation and restoration, in addition to an expansive storage facility. Conservation labs, a library and archive facility, a digital innovation lab, workshop areas, and a new research institute are all part of this eye-catching facility designed by Diamond Schmitt Architects.
Image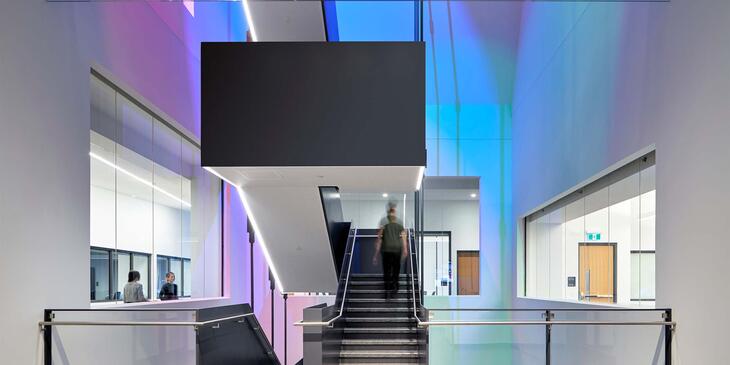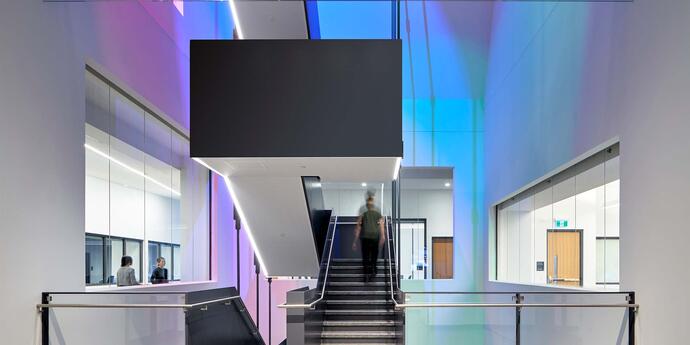 Because the majority of the space is used for collections storage, the building has low levels of natural light to reduce light degradation of historical items, and tall, 24-foot ceilings to fit the large transport collections (i.e., buses, boats, trains). Preservation was a key factor in the client's prioritization of efficient and flexible lighting. From the exterior and large artifact bays and storage areas, through to the common areas, the resultant design is simultaneously cohesive and tailored to the unique needs of each space.
Colour-changing and static white LEDs are integrated into architectural elements, such as the staircase and ceilings, to evenly illuminate spaces for practical use and accentuate various textures and surfaces. Easy access to lighting fixtures was also a priority for the client, so hard to reach areas, such as the staircase, include lighting that is easy to access. Colour-changing projectors were custom-mounted in the open space above the stairwell instead of in the ceiling, and the colours in the stairwell can be adjusted as needed via an RGB controller. While there are currently pre-programmed scenes, the set up gives the client the option for customizable light shows. Wireless control systems also maximize flexibility for the client.